Everything you need; nothing you don't.
FOOD, FIRST AID, & EMOTIONAL WELL-BEING
Featuring a custom nameplate with your surname, this trunk contains gear across the categories of food, first aid, and emotional well-being. A few examples from the top shelf you see here:

Your ReadyPod Guidebook, written by Fred Bruner and edited by Scott James, includes best practices on how to prepare before a disaster, how to respond after a disaster, and detailed guides on the more intricate products contained in the kit.
The My Medic MY-FAK is the highest-rated first aid kit among a sea of competing products. This is the exact kit that forms the core of Scott's personal Wilderness First Responder bag.
Trunk 1 includes an extensive Emotional Well-Being component. The centerpiece, seen here in the rich leather pouch, contains art supplies and a pocket guide. It was co-created with our partner First Aid Arts, which brings effective arts-based resources to trauma survivors. The Emotional Well-Being component is at the core of supporting you and your family through the trauma of a large natural disaster.
Underneath this shelf you'll find a well-organized trunk containing one of two food options. Standard American food is provided via Mountain House, the industry leader in taste, quality, and shelf life (30 year guarantee). These meals are delicious! We also have a 100% plant-based option that is gluten-free, nut-free, dairy-free, non-GMO, and kosher from Northwest Fork, an excellent provider in Oregon with a 10 year shelf life guarantee.
This trunk also contains comfort items such as insect repellent, sunscreen, anti-diarrheal medicine, potassium iodine tablets, antiseptic, and pain relievers. Keep in mind you may not have access to your pantry and medicine cabinet after the natural disaster!
In case the earthquake happens in the middle of the night, you'll have the needed safety supplies within arm's reach with your ReadyTrays™. The first section of your ReadyPod Guidebook will walk you through assembling your ReadyTray using items from your kit, as well as an extra pair of your own shoes and gloves to protect yourself from lacerations.
Finally, this trunk contains additional emotional support items, including a variety of games and positive distractions for ages young and old. After much debate, Fred talked Scott into including a teddy bear and baby blanket for each person. That's right, the CIA Tough Guy says it is OK for everyone (including you) to use a bear and blanket for comfort after a huge earthquake!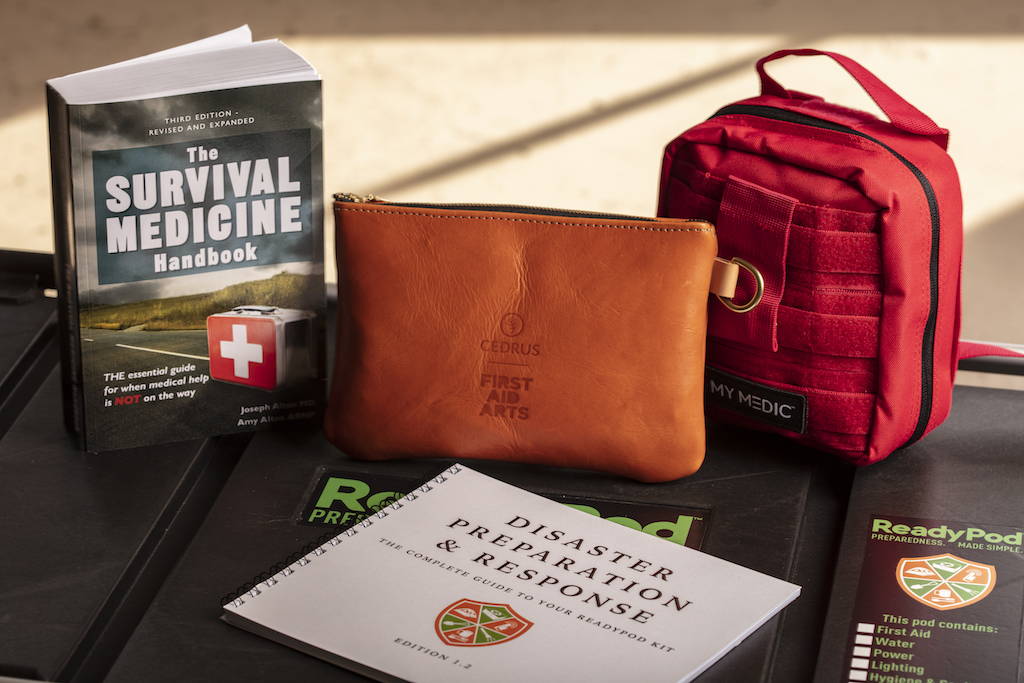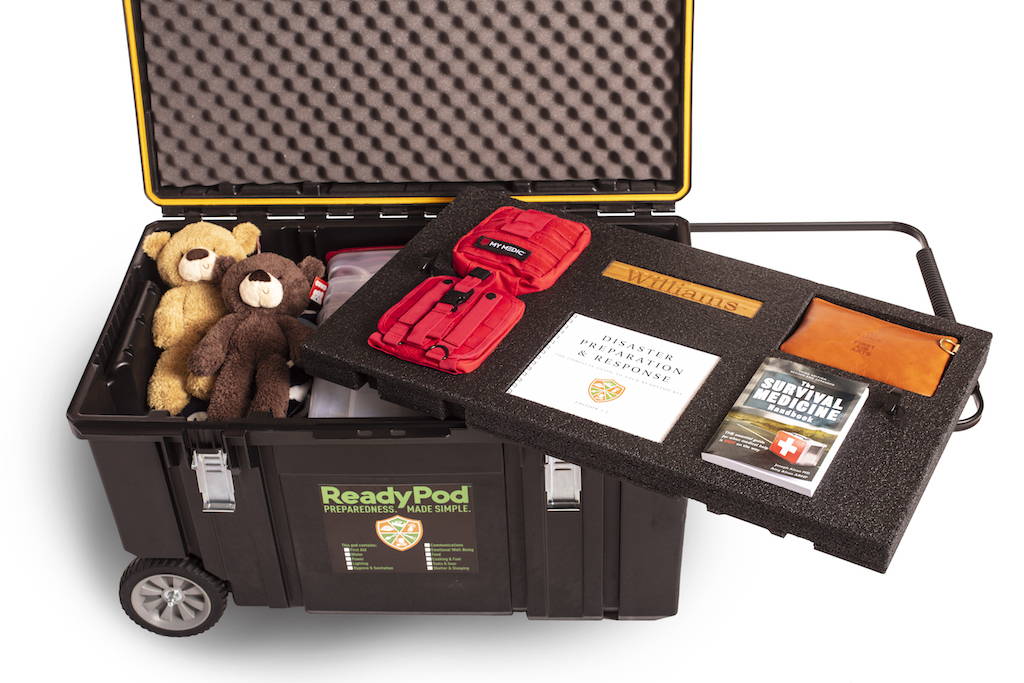 Lighting, Cooking, & Safety Gear
Trunk 2 features gear across the categories of lighting, cooking, and safety. A few examples from the top shelf you see here:
A full set of lighting options that includes camp lamps, flashlights, headlamps, and even the clever UCO candle lantern!
We've selected top quality items that standardize on an abundant supply of long-life AA and AAA alkaline batteries we've included. (Click here to read why we do not include rechargeable batteries or a solar panel.)
You'll want to summon your inner "MacGyver" after a natural disaster has struck, so you'll find the Leatherman tools, crowbar, and machete useful.
A pair of compasses and waterproof notepads will help with navigation, rain or shine.

Remember that you may not have access to your kitchen and tools after the natural disaster; you will appreciate these items the first time you and your family get hungry!
In the bottom section of this trunk, you'll find a well-organized set of safety gear such as a fire extinguisher, hardhats, bungee cords, waterproof dry bag, zip ties, and more. Additional lighting products include a 20-count box of UCO nine-hour candles, waterproof matches, and fire starters. Longer duration kits contain an abundant supply of extra candles, matches, and fire starters.
Additional cooking equipment stored below includes magnesium alloy fire strikers, a gas camping stove with a minimum of 12 butane canisters, and EcoZoom's top-rated rocket stove (there's more of that purposeful redundancy showing up). We've also included a double-wall stainless steel super pot that pairs well with both stoves. In case it is raining and you can't find dry twigs, we've included some charcoal to get your rocket stove started. For comfort and ease, we also include a measuring cup, dinner plates, and a stainless steel utensils kit.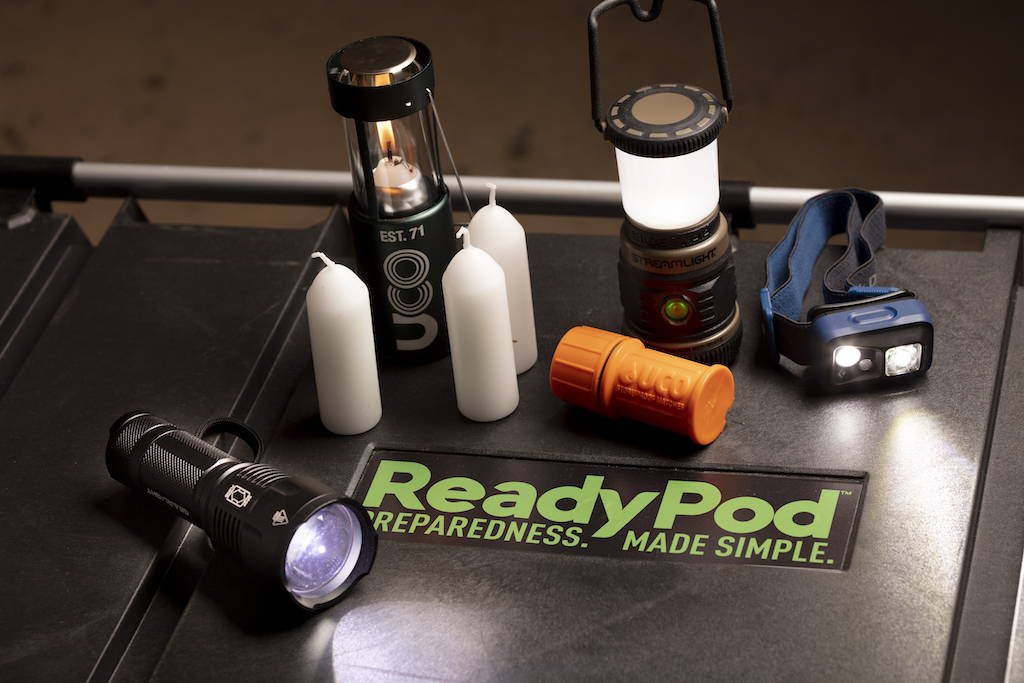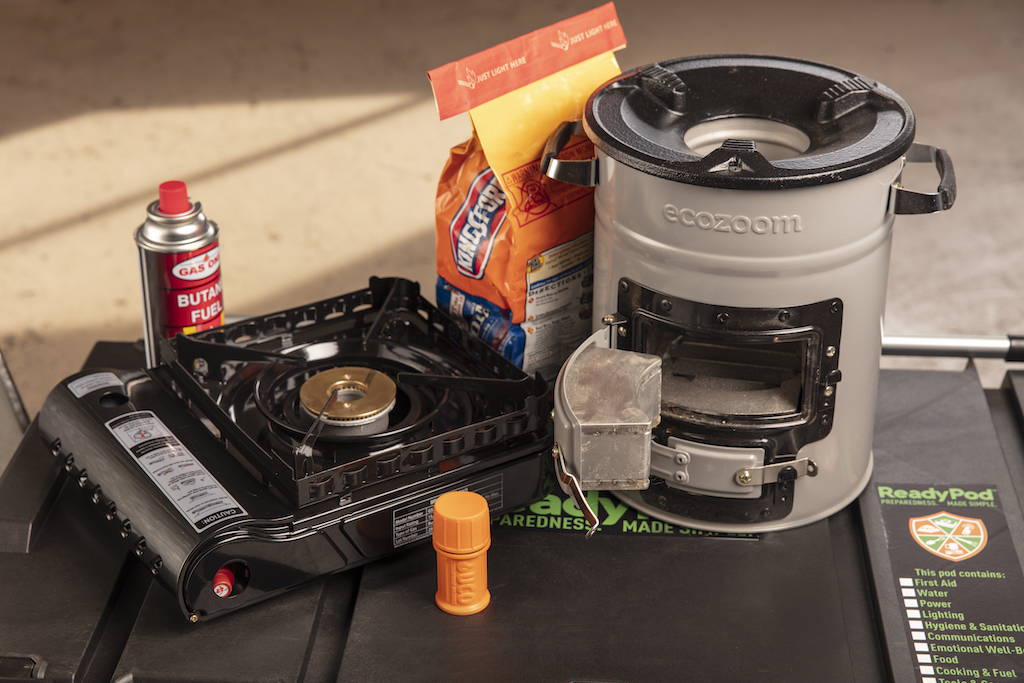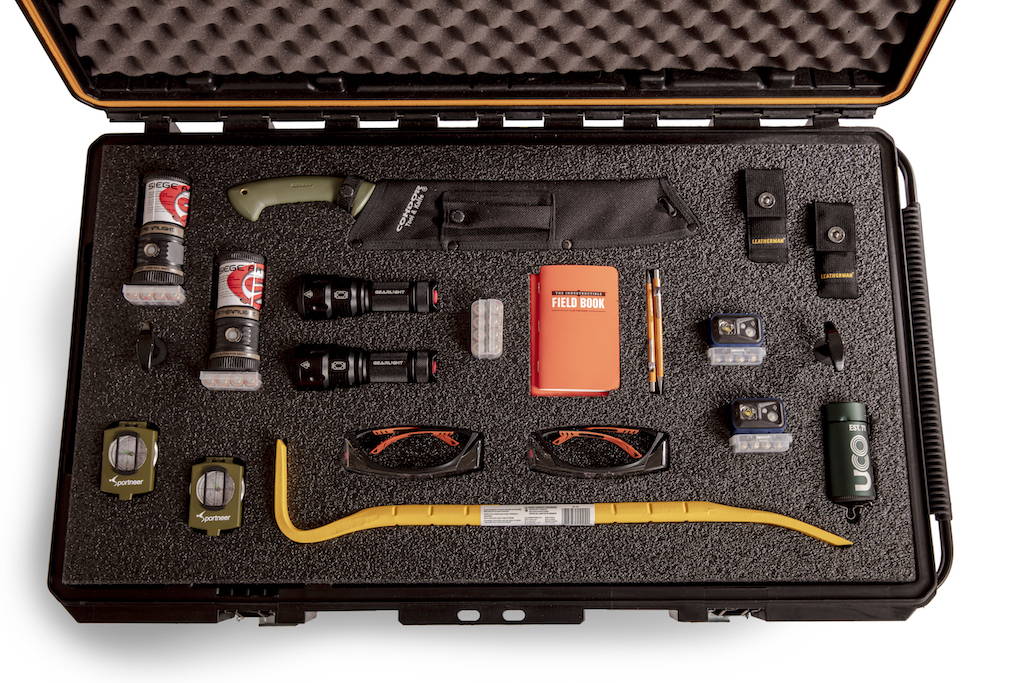 Communications, Power, Shelter, & Water Accessories
Getting good rest is key to staying healthy during the recovery period after a natural disaster. Being able to communicate with others is crucial when cell phone towers are not working and land lines have been cut. ReadyPod provides you with peace of mind like no other kit on the market.

This trunk features high tech devices for communications and power, comfort items for shelter and sleeping, as well as a full range of potable water accessories. On the top shelf you will find:

The Garmin inReach® Mini is our favorite satellite communication device and has an affordable monthly plan so it is always there when you need it. The ReadyPod Guidebook takes you step by step through how to use this device to send text or email messages to anyone in the world when power is out and cellular systems are down. This device works anywhere in the world you have a clear view of the sky.
Two Anker USB power banks to keep your smartphones and Garmin inReach Mini running for months. Your smartphone will not be usable for cellular phone calls or normal texting, but it will be useful to pair with your Garmin for easy texting via satellite.
50 AA and 50 AAA batteries with a 10-year shelf life stored in handy green storage boxes (these are in addition to the batteries stored next to Trunk 2's lighting systems). We store the batteries in separate containers to keep them fresh and isolate any that might go bad. Longer duration kits contain hundreds of extra batteries.
Our favorite emergency radio / NOAA weather alert system ensures you always know what is coming, particularly important when you are also anticipating earthquake aftershocks. Our low-tech but durable whistles are useful for signaling to others in an emergency.
Your included water barrel is your primary source of clean, healthy water, stabilized for five years with our Aquamira Chlorine Dioxide Water Treatment. For additional potable water, we include the top-rated, gravity-fed filter by Platypus.

Underneath the top shelf you'll find a well-organized trunk containing water accessories that work perfectly with your ReadyPod water barrel, including a potable water hose and portable water containers. This trunk also contains an entire system of comfort items for shelter and sleeping, from a top-rated tent designed for year round use to brand name sleeping bags, sleeping bag liners (for extra warmth), and sleeping pads. You'll find every detail covered, including extra items like tarps, paracord, duct tape, and more.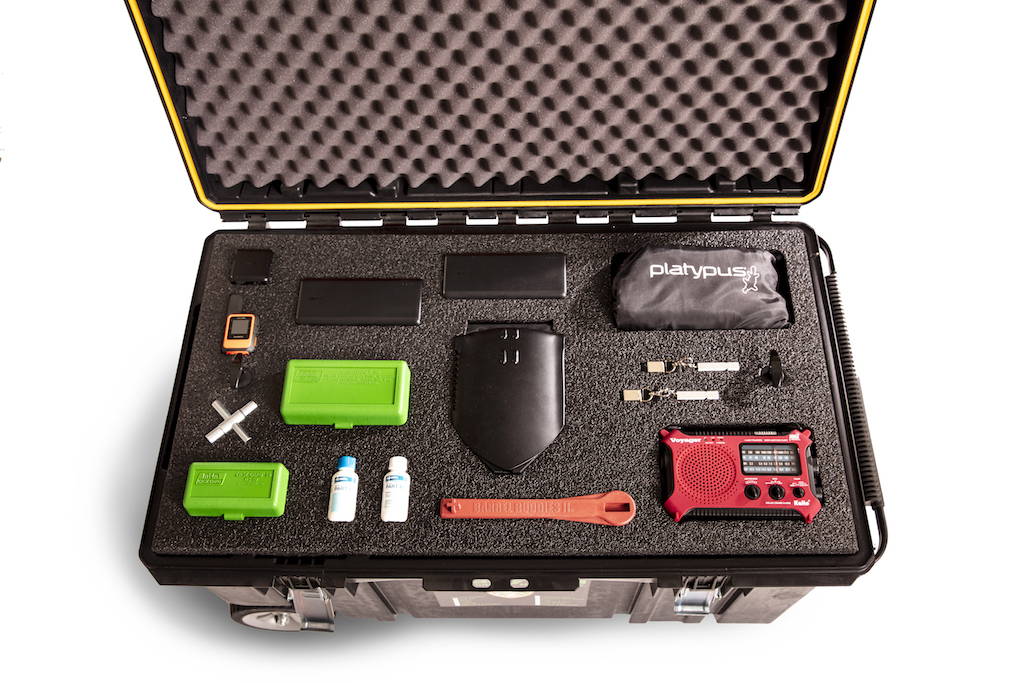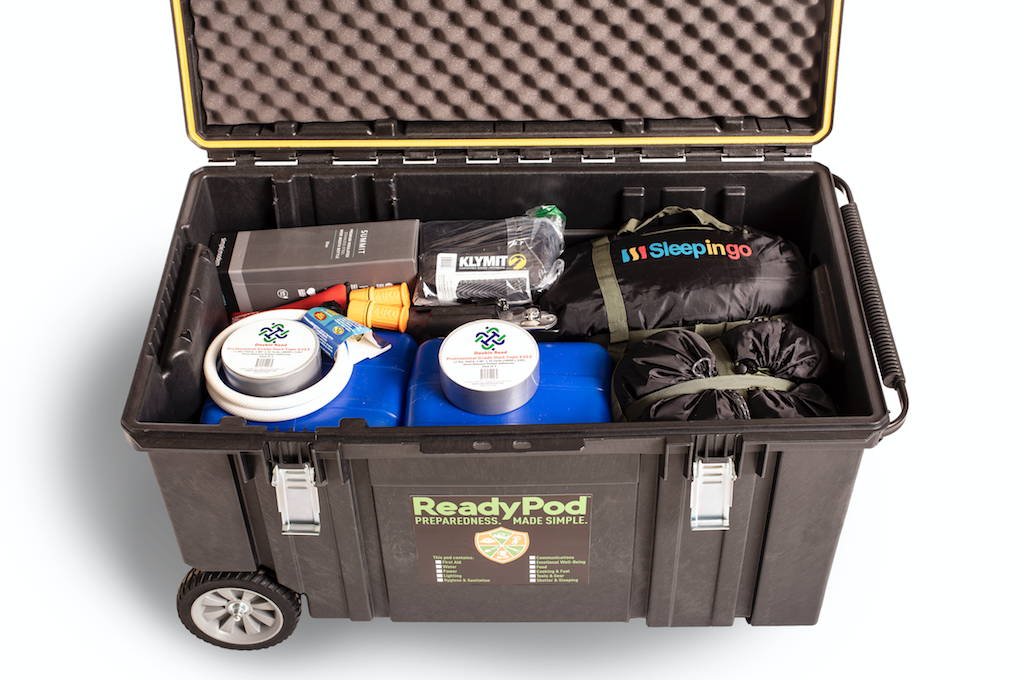 After a major earthquake, you may not have access to your normal bathroom and kitchen facilities. Having a ReadyPod kit means you stay clean, healthy, and in good spirits despite the challenging circumstances.
With brands you know and trust like Dr. Bronner's, Oral-B, Purell, and Seventh Generation, this trunk covers all your sanitation and hygiene needs. A few of the items you see pictured on this customized top shelf include soaps and wipes for cleaning yourself, your dishes, and your surroundings. We added filtration masks, protective gloves, sanitizer, and spray bottles to enable you to safely clean up messes, as well as toothpaste, toothbrushes, and floss to maintain your oral hygiene in the weeks after the disaster. Should the earthquake happen during a cold part of the year, you'll find the hand-warmers to be a quick and efficient source of comfort.
In the rest of this trunk, you'll find an abundant supply of those hand-warmers, disinfecting wipes for surfaces, white vinegar for sterilization, wet wipes to save potable water, 500-count paper towels for use with your Dr. Bronner's soap, and micro-fiber towels. Our grandparents used to say, "That's everything, including the kitchen sink!" So of course, we do include a handy collapsible sink sized to clean your food dishes as well as yourself.
Just because you don't have access to your normal bathroom facilities does not mean you cannot relieve yourself in privacy and comfort. The glorious centerpiece of our complete sanitation system is a pair of comfortably shaped toilet lids for your Luggable Loo buckets...two buckets so you can keep solids and liquids separate for odor control and sanitation. (Fred refers to them collectively as "The Throne.") We've thought through and tested every aspect of this system, which also includes ample quantities of compact toilet paper, deodorizer tablets, super-strong bags for waste disposal, and hand sanitizer...all surrounded by a privacy tent that also protects you from the elements.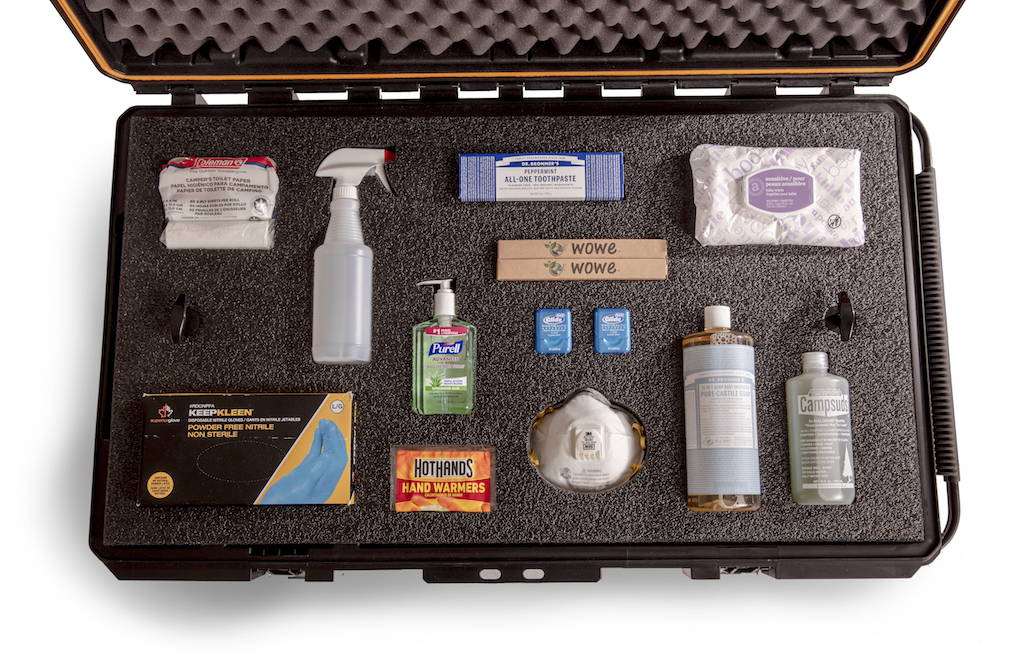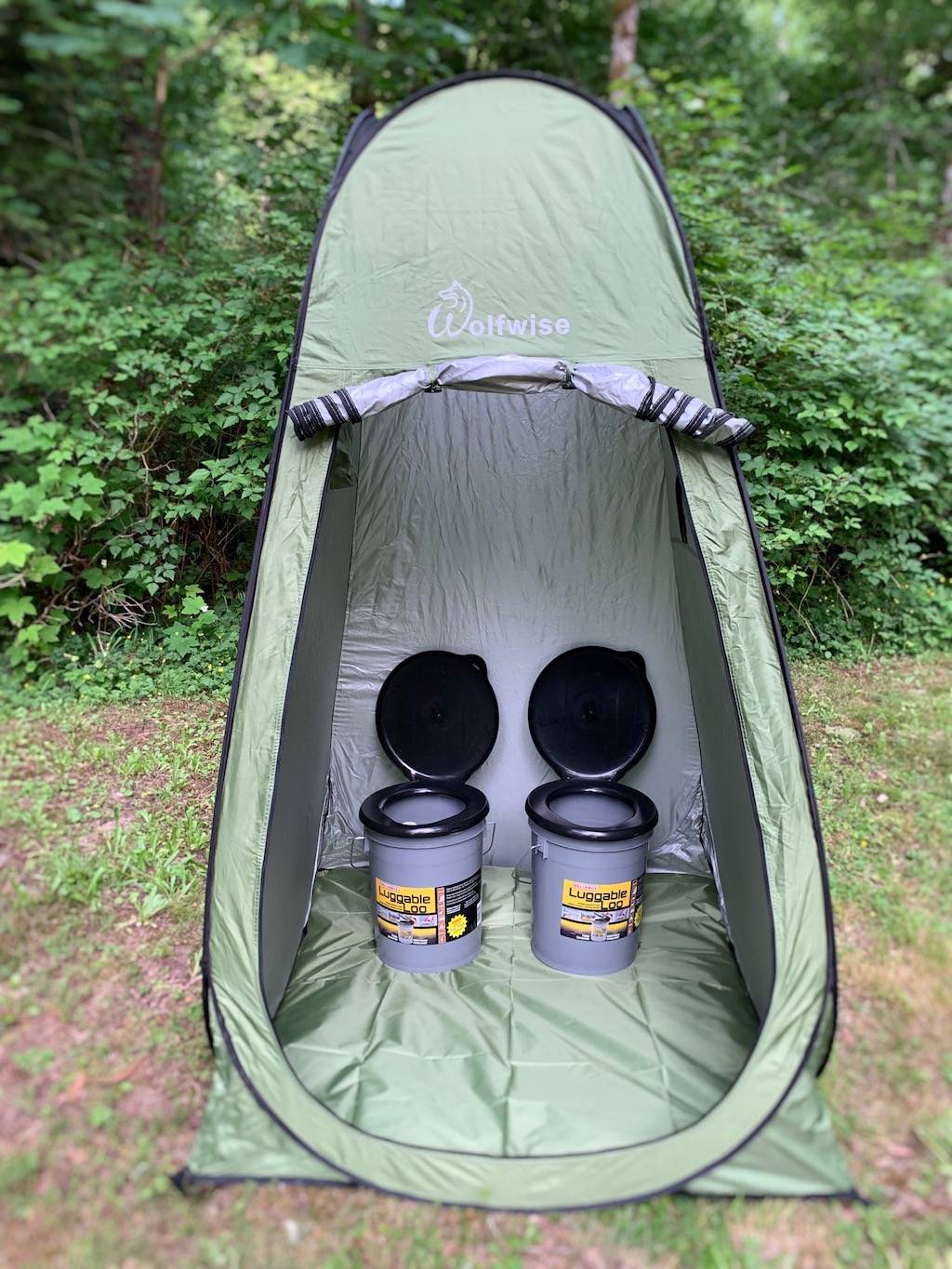 Your ReadyPod kit comes with at least one water barrel. We'll select the correct size for you based on FEMA recommendations of one gallon per person per day. Of numerous choices in this crowded marketplace, we've found the barrels from WaterPrepared to be the clear winners. Here are just a few reasons why:
Phthalate-free and BPA-free.
Made in America from FDA-approved, NSF-certified food grade plastic.
Fits through a standard door for ease of placement with its dimensions of 22"W x 28"D x 30"H (55 gallon) or 29"W x 36"D x 45"H (160 gallon).
Unique, stackable design.
Large top cap for easy filling.
Spigots connect to standard hoses for simple dispensing.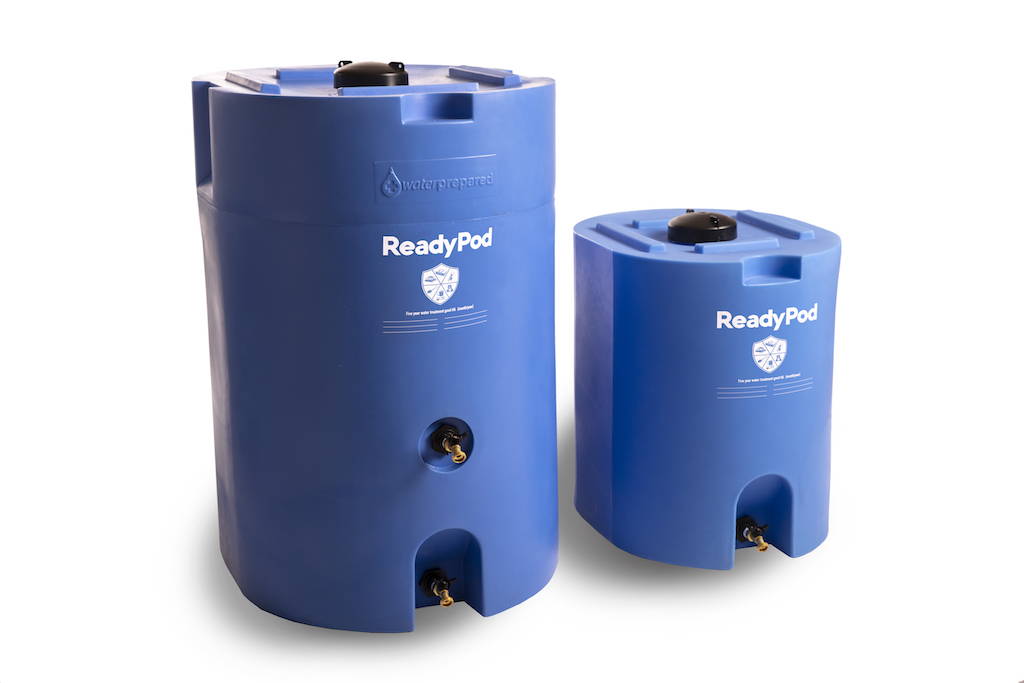 Evacuation pack; additional trunks and barrels
Your kit also includes a premium evacuation pack for escaping wildfires. Quick to access and easy to carry, you can be on the road and moving away from danger within minutes.
We scale your ReadyPod™ kit beyond the four starter trunks (which only take up the same footprint as your favorite bicycle) based on the number of people and weeks for which you indicate you need protection, including adding 160-gallon water barrels to your kit.

Additional trunks include a variety of items that are crucial for each individual to have (such as lighting) as well as important shared items (like toilet paper!). Just a few examples:
First aid medications such as anti-diarrheal pills and antiseptic, as well as comfort items like insect repellent and sunscreen.
Food, of course!
Dr. Bronner's all-purpose soap and all related hygiene supplies.
Shelter items such as additional sleeping bags.

The oh-so-important compact toilet paper and many other sanitation items.
Your primary power supply, consisting primarily of loads of batteries.
Emotional well-being baby blankets and stuffed animals (remember Fred says it's OK for everyone to have one of each post-disaster!).